Shankar Arul
Data Scientist, Mathematician and a Full-Stack Developer. Passionate about Theoretical Mathematics. Expert in Applied Mathematics and Data Science with more than 10 years of hands-on Experience.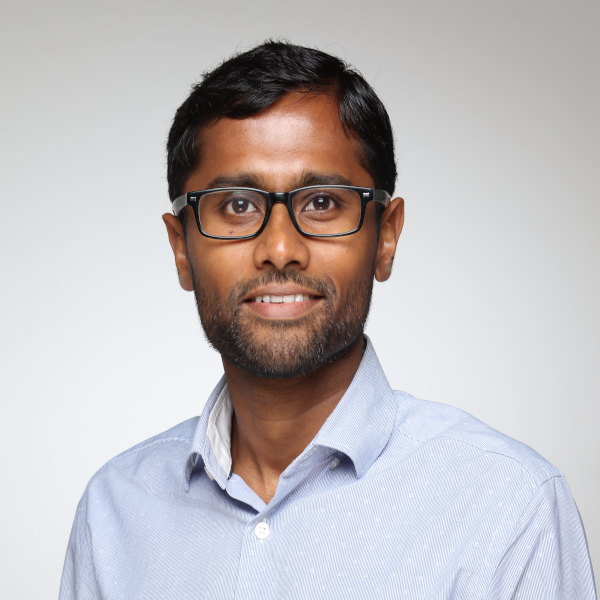 Data Scientist & Strategic Data Analytics Consultant.
Website: jupyterdata.com
Phone: +33 7 62 54 97 99
City: Paris, France
Degree: MBA (Finance), Master of Science (Operations Research)
Email: shankar@jupyterdata.com
Freelance: Available
I spent the first 8 years of my career as an Engineer in Data Analytics, I published 2 articles in Internationals Scientific Journals. I then did an MBA in Finance and spent the rest of my career on the Strategic side of Business. My area of specialization lies at the intersection of Data Analytics and Web Business Strategy.
Publications
Publications include 2 scientific articles in a reputed International journal and a book on Tableau for Business Users.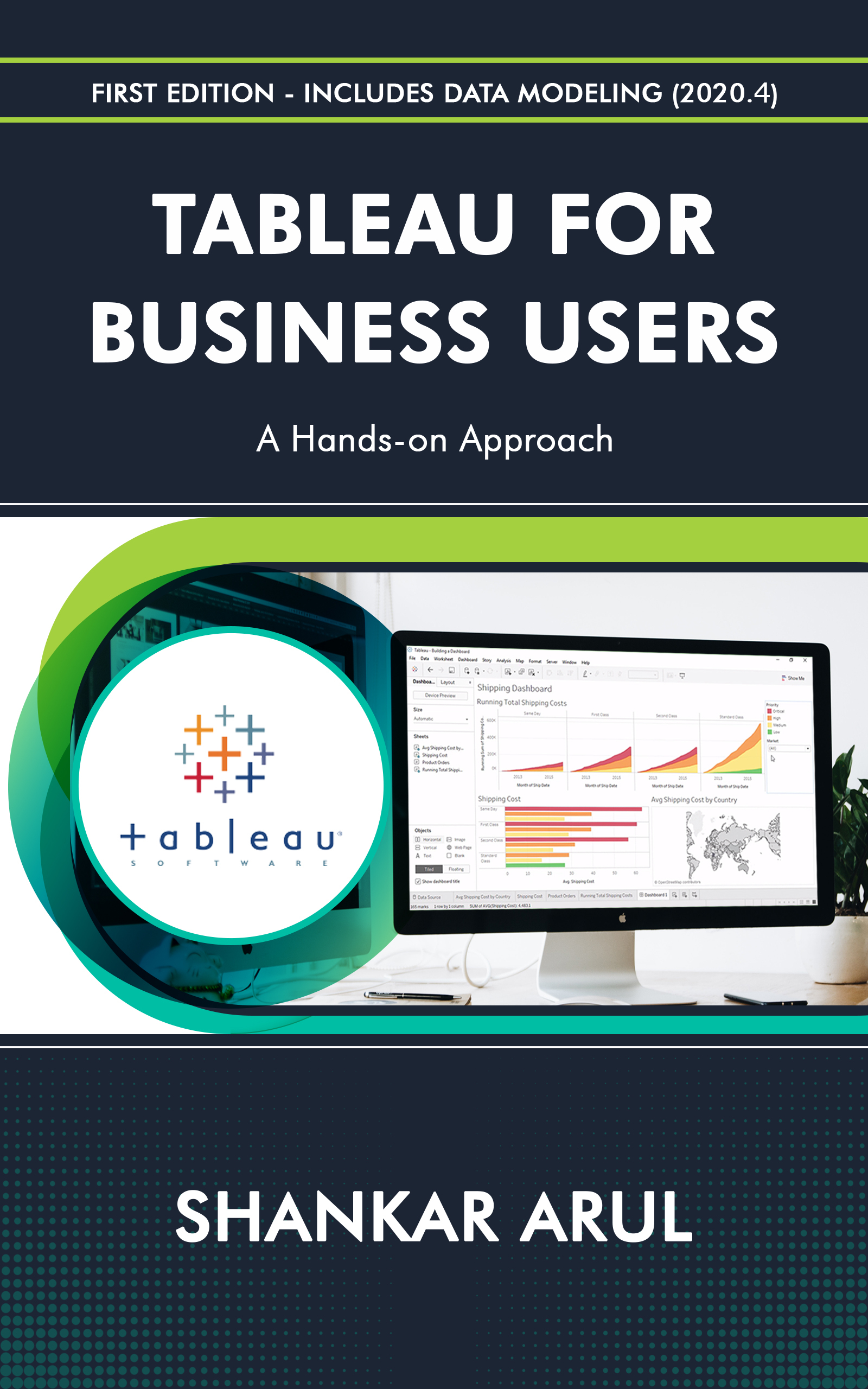 Tableau for Business Users - A hands-on Approach
Data-Driven decision making is no longer a "nice to have" in today's context but an absolute must. Unfortunately, most business users don't necessarily have the right tools and the skills to question the data and derive meaningful insights. This is where Tableau, as a data visualization tool, shines and provides an intuitive means of playing with the data. This book is geared for a "Data Novice" business user and will help you master Tableau by walking you through concrete examples and issues that you might face every day at work.
The primary intended audience of this book are business analysts, Data Analysts and Financial Analysts or more broadly anyone who is hitting the limits of Excel with their data analytics needs. If your day to day revolves around staring at numbers all day long, then you're definitely part of the target audience. There are no prerequisites to follow along the concepts in this book. We will work our way gradually from the very fundamentals of data all the way upto to building fancy dashboards & visualizations on gigabytes of data.
There are many books on the market which are excellent Tableau reader manuals. They do an excellent job presenting every menu tab, button, pane, shelf in Tableau. If you're the kind of person who needs to know every single button and functionality tucked into Tableau then this might not be the right book for you. When you start to learn a new language and want to go about it in a systematic and methodical way, you'd start with the grammar. Understanding the foundational underpinnings of the languages, helps you get the basics right and then it's a matter of stringing words together to make sentences. Lining up words within the rules defined by the grammar (or not) in infinite possible ways to write Shakespearean poetry or tabloid articles or have conversations is a logical next step. This book intends to approach the subject of mastering Tableau in a similar fashion. We'll try to distil the very core essence of tableau in a few concepts and then it's just a matter of combining them in infinite possible ways to build the visualizations.

A design of experiment based procedure for real-time forecasting
Time series methods base their forecasts on extrapolations from past patterns and inter-relationships. Consequently, they work well only when the future is similar to the past or when changes (by chance) happen to cancel out; they are also quite handicapped when it comes to the consideration of environmental factors. In a turbulent environment with high uncertainty, the need for accurate forecasts is paramount. Hence, this paper proposes a design-approach, which incorporates the principles of Design of Experiments (DOE) into the real-time forecasting model, such as causal methods, to minimise the standard error. DOE is employed to select the most significant factors while forming the causal equation and further to perfect the coefficients of these factors. A pilot study data has been used to validate the proposed model.

Development of efficient combinatorial auction mechanism for airport slot allocation
The current allocation of slots in congested airports is fraught with deficiencies because of the liberalisation of air transportation undertaken all over the world. The existing grandfather rights rule is slowly being replaced with auctions. In the airport slot allocation problem, in order to effectively auction the slots, multiple-item auctions are employed. It is in this aspect that combinatorial auctions are employed, as they are the most efficacious in dealing with complimentarity. Since the existing mechanisms are more inclined towards maximising the auctioneer's profit – with the monetary issue being the only concern – they lead to biased allocations. Therefore, this paper develops a model and proposes a mechanism that could overcome the shortcomings of the existing auctioning procedures by incorporating the concepts of welfare issues with due consideration given to the flight capacity to effectively allot the slots.
Facts
I have more than 12 years of hands-on experience in the field of Data Science with a strong focus on delivering projects with a positive ROI (Return on Investment) and on time. I have published 2 articles in peer reviewed scientific journals in the field of Forecasting and Game theory. I'm also the author of the best selling Data visualization book "Tableau for Business Users - A hands-on approach".
Summary
Shankar Arul
Paris, France
+33 7 62 54 97 99
shankar@jupyterdata.com
Education
MBA, Finance
2008 - 2010
Essec Business School, FR
Scholarship: Excellence Eiffel
Master of Science, Industrial and Systems Engineering
2006 - 2007
Virginia Tech, US
Specialization: Operations Research & Applied Mathematics
Bachelor of Engineering, Mechatronics
2002 - 2006
Anna University, IN
Best Outgoing Student
Professional Experience
Head of Analytics Engineering
2020 - Present
Kering, Paris, FR
Designed and built the E-commerce Data Warehouse from the ground-up as part of the internalisation of their e-commerce activities.
Setup Data Analytics and Visualization tools to help democratize access to data for end-users
Technical environment: AWS EMR, AWS Athena, AWS Aurora, AWS S3, Google Bigquery, Python, Pandas, Hive, Parquet, Tableau, DBT
Founder & CEO
2016 - 2019
JetPack Data, Paris, FR
jetpackdata.com instantly transforms your data into Analysis and Dashboards. Just drag and drop your data source and let JetPack's machine learning algorithms do the rest and help you in your analysis
New York Times features JetPack Data as a GroundBreaker under the category AI
Technical environment: Python (Flask, Numpy, Scipy, TensorFlow, Pandas), Javascript (Angular 9, AngularJS, D3)
Contact
Email:
shankar@jupyterdata.com